26.05.2023
High End in Wheels

Had you known?
CMS is one of the top 3 leading alloy wheel manufacturers in Europe:

⇨ CMS manufactures over 10 million aluminium wheels per year at 4 locations...
⇨ with state-of-the-art production facilities...
⇨ at the cutting edge of technology...
⇨ with over 4,000 employees throughout Europe.
⇨ With more than 40 years of experience as an original equipment manufacturer for the leading car manufacturers, we guarantee the highest quality standards.
⇨ Our total stock capacity for the aftermarket is permanently 230,000 wheels.
⇨ Sustainability is a topic that has been practised at CMS since the beginning.

Take a look at the current wheel range.
Use the configurator and take a view to our wheels mounted on your car.

Our Newsletter
Subscribe to our CMS newsletter with your email address and receive a monthly update about our aluminium wheels.
28.04.2023
CMS Wheels in shimmering copper coating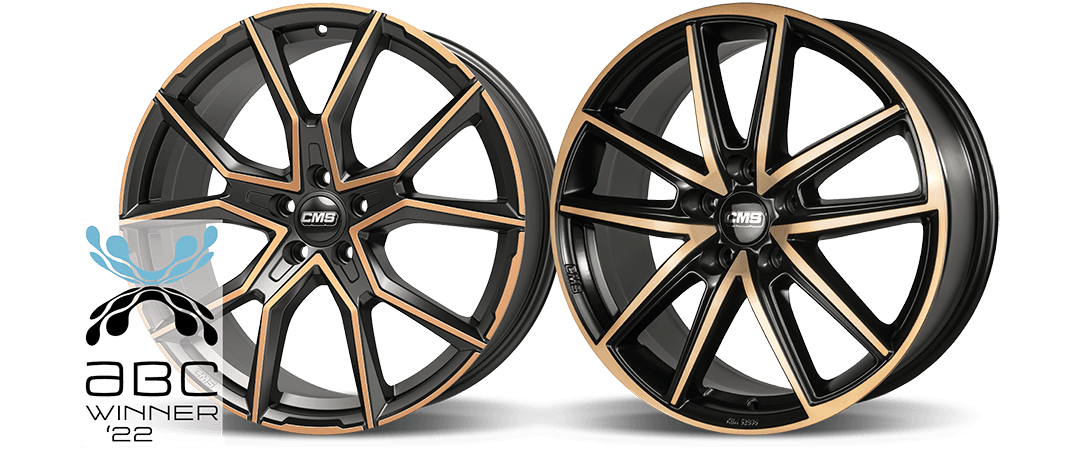 Copper belongs to the precious metals. Its task is to conduct energy and eliminate negativity.
At the same time, copper embodies beauty and has a harmonising effect.

With the development of a copper coating on polished surfaces, CMS transfers these properties to its wheels and thus to the entire vehicle. Copper combines particularly harmoniously with vehicle colours in shades of black, grey, green, white and blue. The wheels are protected by the copper coating and your car comes out cool right away.

State of the art designs in a shimmering copper coating are available with CMS:
⇨ C30 in sizes 17" - 19" and
⇨ C33 in sizes 18" - 20".

Configure your vehicle: https://cms-wheels.com
30.03.2023
CMS C33 – A highlight of CMS design language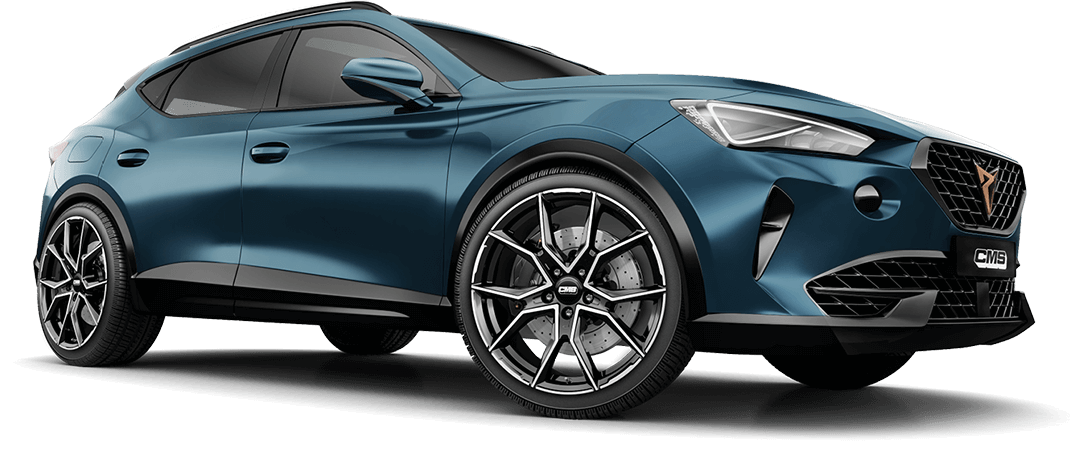 Awarded the Winner-Award of the "automotive brand contest" The World Of Mobility
Angular lines and effectively designed details give the C33 its striking appearance and enrich it with character. Dramatically elegant and meticulously engineered, it is at the cutting edge of the guidelines demanded by premium manufacturers. Lightweight and robust, it meets the desire for ever more refined optical possibilities.
In order to manifest the status of "design highlight" and to meet the demand, the color range of the C33 was recently supplemented with black gloss.

From 18" to 20" inches, the wheel is available in the four currently popular color variants: Diamond Black Gloss, Bronze, Black Gloss and in a shimmering metallic look - Diamond Black Copper.
27.02.2023
CMS Catalogue and Design Brochure 2023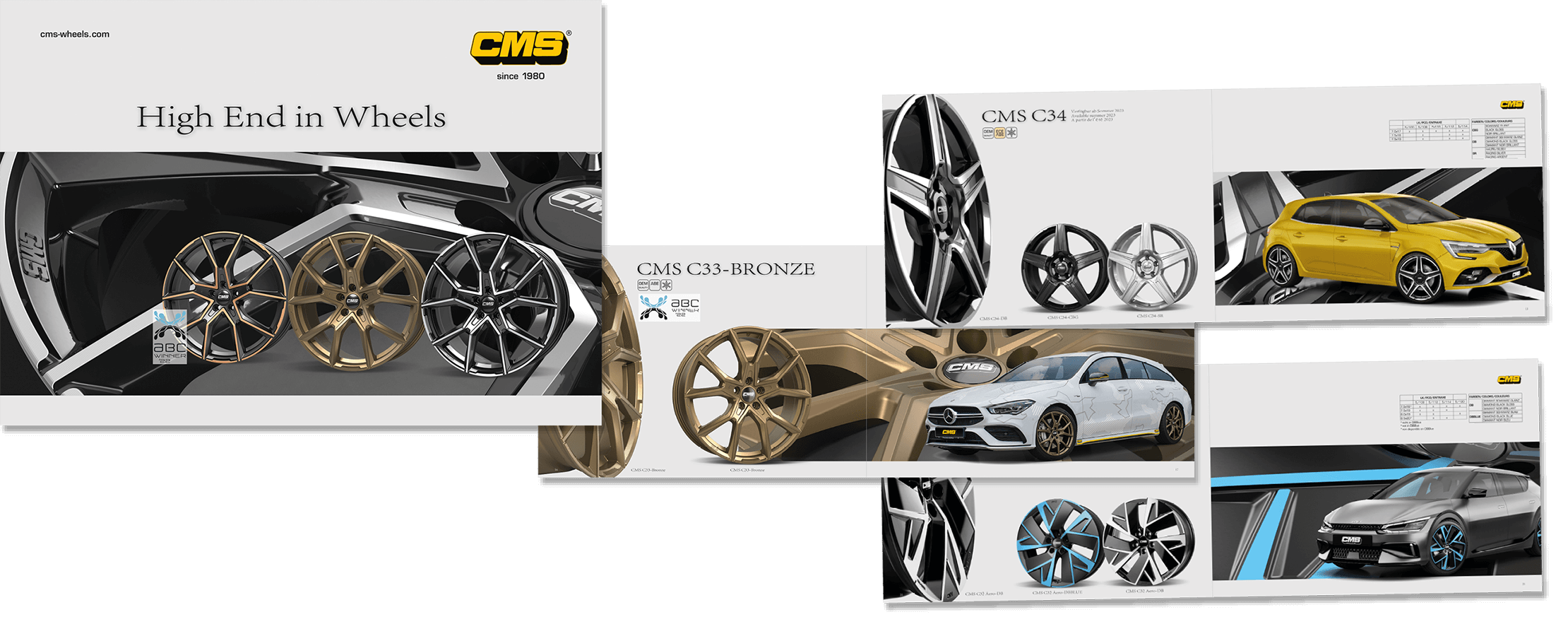 The new CMS Printouts 2023 are on the way.
You can already view and download our new catalogue and design brochure on our website! Click "Download"

Polished wheels with a shimmering metallic look are currently in fashion; especially in copper or blue.
Copper is said to open the eyes to beauty and eliminate negativity.
Blue stands for innovation, technology and reliability.

CMS is refining this trend with new colour variations for the C30, C32 and C33 designs.
Take a look at our new catalogue and be inspired by the designs and colours:

CMS C32 - in shimmering diamond black blue
CMS C33 - in the new colours Diamond Black Copper and Black Gloss
CMS C34 - a new 5-spoke design that will appear in the shop in the middle of the year
27.01.2023
CMS C32 in blue - Symbol for electric drive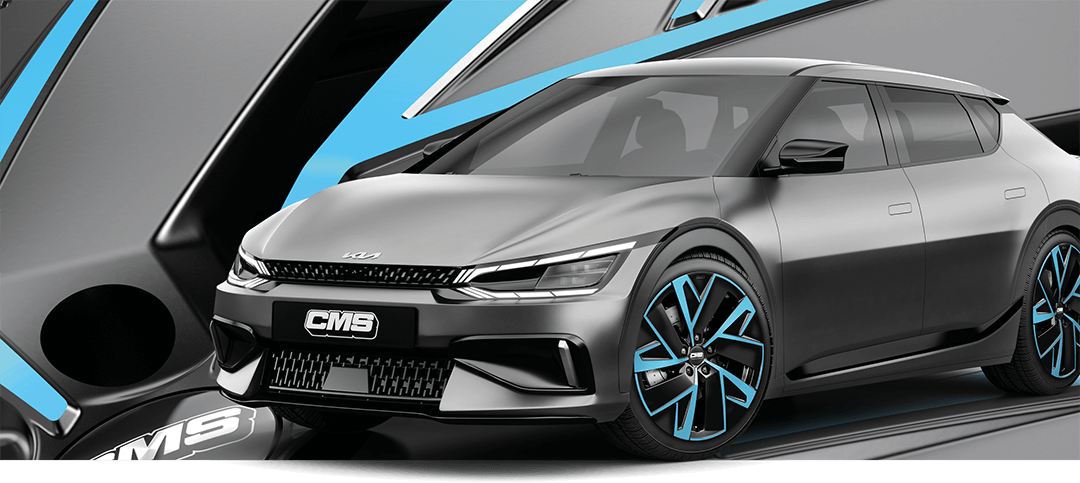 CMS C32 - the perfect design for all vehicles with electric / hybrid drive.
Designed with a sensitive hand, the almost fully closed surface has been given a sporty and sexy line.
The wheel thus never appears too massive and uncompromisingly joins the league of leading OEM wheels. No wonder, that the C32 was celebrated immediately after its market launch!

New - in the colour version Diamond Black Blue , it reflects the symbolic colour of electric drives.
A statement for all fans of emission-free vehicles.

The C32 Diamond Black Blue is immediately available in:
7.5x19" and 8.0x19".
The C32-Diamond Black Gloss is available immediately in:
7.5x18", 7.5x19" and 8.0x19".
24.11.2022
CMS Black Beauties
Wheels in shiny black are hip!
With the Black Beauties from CMS, you hit top winter performance with your car!
Due to the smooth surfaces, the designs are easy to maintain without any effort. In addition, the 3-layer coating of the wheels provides special protection against the extreme effects of ice, salt and grit.

Available sizes for all common vehicles:
CMS C24: 6x15, 6.5x16, 7x17
CMS C27: 6x16, 6.5x16, 7x16, 6.5x17, 7x17, 7.5x17, 7x18, 7.5x18, 8x18, 7.5x19
CMS C28: 7x17, 7.5x18, 7.5x19, 8x20
CMS C30: 6.5x16, 7x17, 7.5x18, 8x18, 7.5x19
31.10.2022
CMS - How to care for your wheels

Download cleaning tips before the winter break
It's changeover season again. The wheels on the cars get changed and put into storage. As the alu's are exposed to considerable impact and dirt, care before storage is essential for a long life.
To ensure a continued shiny appearance after each season, we have the following tips for you:

⇨ Use warm water and a commercially available car shampoo.
⇨ Refrain from using rim cleaners, as these often contain acidic substances that can attack the paintwork or the plastic of the hub caps.
⇨ The steam jet is not recommendable! The strong pressure of the water jet can attack the clear lacquer!
⇨ Think about the inside of the wheels as well!
⇨ The best way to remove stubborn dirt is with a rim brush and in hard-to-reach places with a toothbrush.
⇨ Rinse the wheels with clear water after cleaning and dry them with a soft cloth.
⇨ Finally apply a commercial rim wax or rim sealer and your wheels will shine in new splendour.

We have provided detailed care instructions for you on our website under "Downloads".
29.09.2022
CMS - The season in sight


We have the season in our sights and are well prepared to give our customers the support they need for a successful winter business.
⇨ With new colour variants and a product variety of 20 cutting-edge designs in 16 different colour variants, we land "top hits" for every taste.
⇨ State of the art production facilities guarantee high-end quality, even for polished wheels in winter use.
⇨ We always have more than 225,000 wheels in stock! Our availability of goods is assured
⇨ We ensure fast delivery through automatic routing of the orders until dispatch.
⇨ Our motivated friendly sales team is happy to answer all your questions.
31.08.22
In winter we focus on colour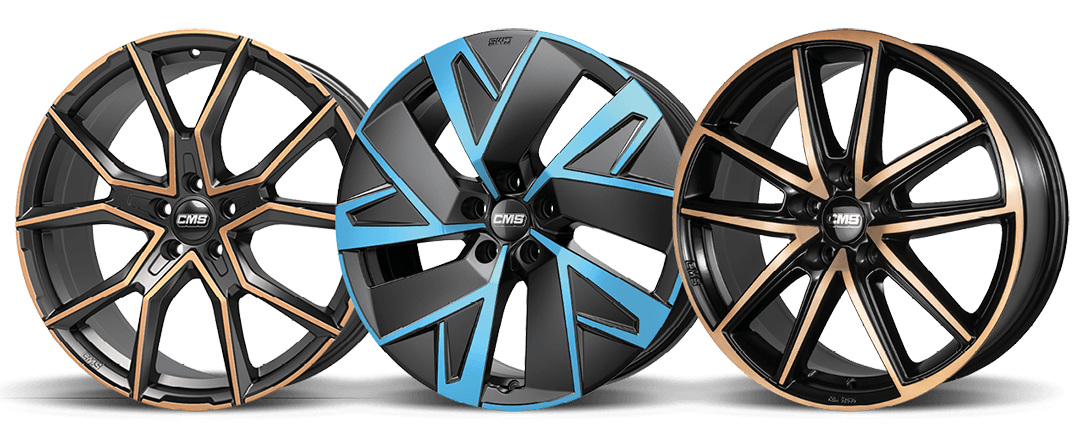 Coloured and front-polished CMS wheels also run through frosty winter months.
We have taken on the technical challenge of making coloured high-end designs winterproof with the highest paint precision.
With the designs C33, C32 and C30, we have equipped our sportiest wheels in bicolor, so they can deliver top performance in blue or copper, even on salty roads and snow!
The designs are available in the following sizes:

⇨ C33 – 8,0x18; 8,0x19; 8,5x20
⇨ C32 – 7,5x19; 8,0x19
⇨ C30 – 7,5x17; 7,5x18; 8,0x18; 7,5x19
24.06.2022
CMS – Touchable Motor Sport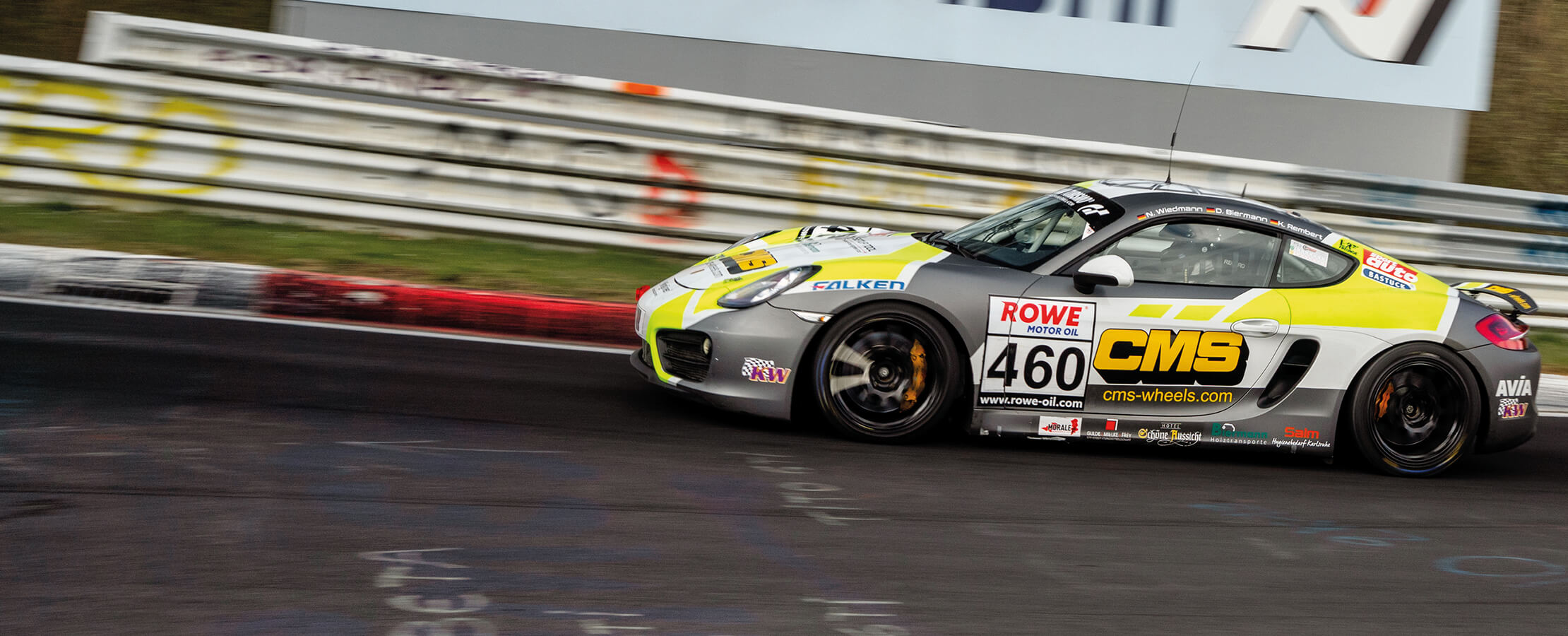 CMS is an enthusiastic supporter of the W&S Motorsport racing team. By sponsoring a Porsche Cayman in the NLS-Nürburgring long-distance series and the corresponding commitment, CMS was able to arouse the interest in motorsport among many car enthusiasts. Last but not least, the eye-catching car branding and success were convincing.

The NLS is an international racing series that attracts worldwide interest. Due to the variety of race cars and its special fan proximity, it bears the title "world's largest popular sports racing series". Without any restrictions, the fans can visit the teams in the pits, go through the pit lane between qualifying and the race and have a close look at the racing cars and drivers in the so-called "grid" immediately before the race.

CMS wishes its team W&S Motorsport and his driver Kevin Rembert continued success!


Links:
⇨ Kevin Rembert: https://www.instagram.com
⇨ https://www.youtube.com
19.05.2022
CMS C33 - Design hero in the anniversary year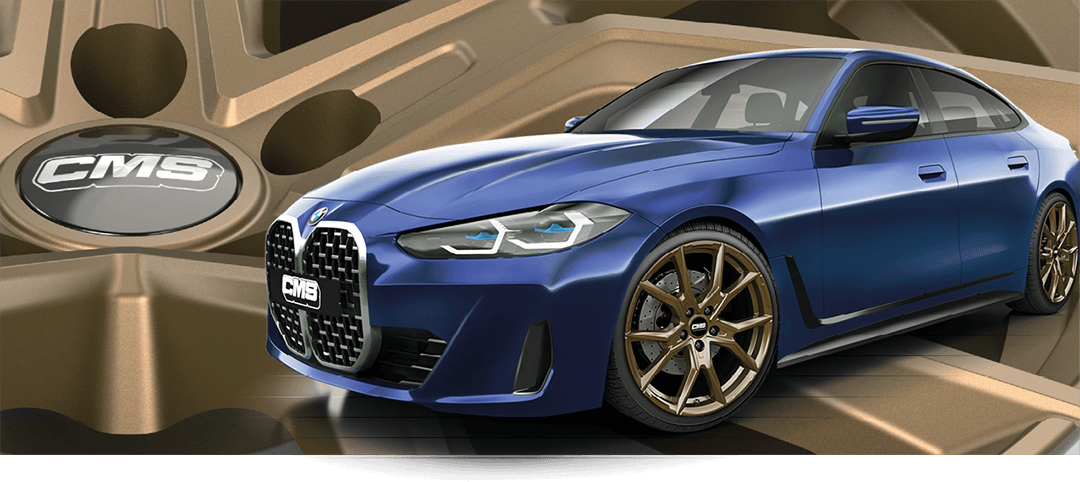 CMS Germany is turning 25 and is pleased to introduce a new design.
As a hero in the anniversary year, the Y-spoke wheel impressively demonstrates the attractiveness of the CMS wheel range!
Angeld spokes rotate in opposite directions and claw their way into a detailed rim flange - a wheel with licence to passion.

Both color variants are available in ⇨ size 8x19 with the following applications: 5/108, 5/112, 5/114.

26.04.2022
CMS pimps small cars in red.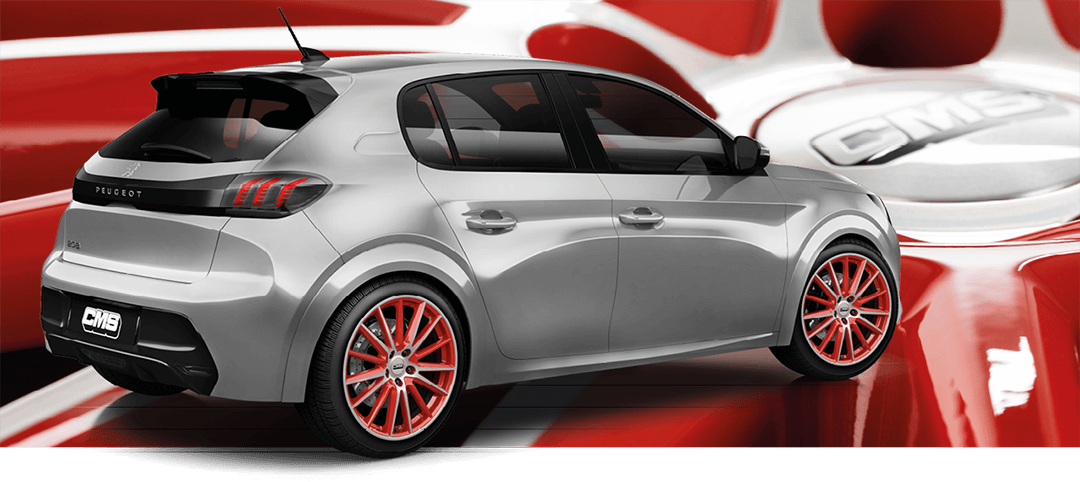 You want to turn your vehicle into an eye-catcher and are looking for wheels in 15" or 16"?

Then the red CMS C23 will lead you to success! With its 15 narrow accentuated spokes it looks cool right away!
And because of the wide range in all common pcds, you will find approvals for almost every vehicle. If you are not sure about red and it should be a different colour, you can choose between Diamond Black and Diamond Rim Black.

The CMS C23 in 15" and 16" is available in the colours shown above with the following applications:
⇨ 4x98, 4x100, 4x108, 5x100, 5x108, 5x112, 5x114
29.03.2022
CMS Aero Wheel Test with TU Dresden

CMS faces testing of its two new aero designs by the Institute of Automotive Engineering at TU-Dresden.
The aim of the project was to determine the aerodynamic properties of three wheels. A test method was developed to investigate these properties in the wind tunnel of the TU Dresden.

Three technically identical wheels with different designs was selected:
⇨ CMS C26 in 8x19" a 5 double-spoke wheel with conventional rim flange as a basis for comparison.
⇨ CMS C29-Aero in 8x19" with an approx. 2 inch wide aero lip
⇨ CMS C32-Aero in 8x19" as an almost fully closed design

The wheels were tested with Nexen tyres NFera Sport 235/35R19.

The test is intended to represent driving at intercity and motorway speeds, so a speed range of 80 to 130 km/h in 10 km/h increments was set. To simulate the wind not only from the front but also from the side, the angle of the flow is varied between 0° and 25° in 5° steps.

Result:
At the beginning, the rotation increases the drag coefficient due to the additional turbulence caused by the spinning wheel. However, the drag coefficient decreases significantly with increasing speed; especially with the C32 whose geometry creates a closed surface when rotating. Here, a reduction in drag of up to 16 % (average of 12.5 %) is achieved. The C29 Aero achieved a reduction in drag of up to 5% solely due to the 2 inch wide aero lip.

We would like to thank the team of the Technical University of Dresden and Nexen Tire for providing the tyres.
27.01.2022
CMS Germany celebrates anniversary!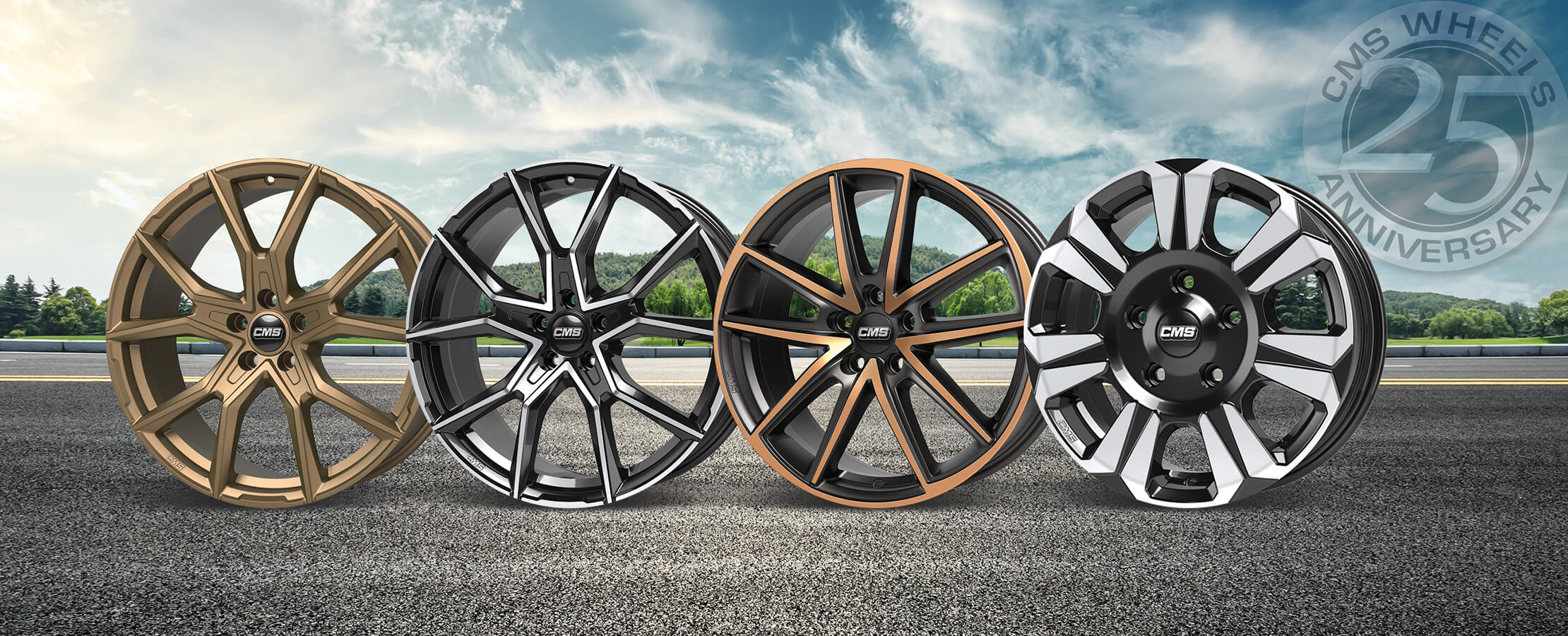 Founded out of passion and successfully continued managing with this passion, CMS Germany is one of the most important wheel manufacturers in the European aftermarket. Supported and supplied by a
25.11.2021
Heavy Duty Vehicles in Focus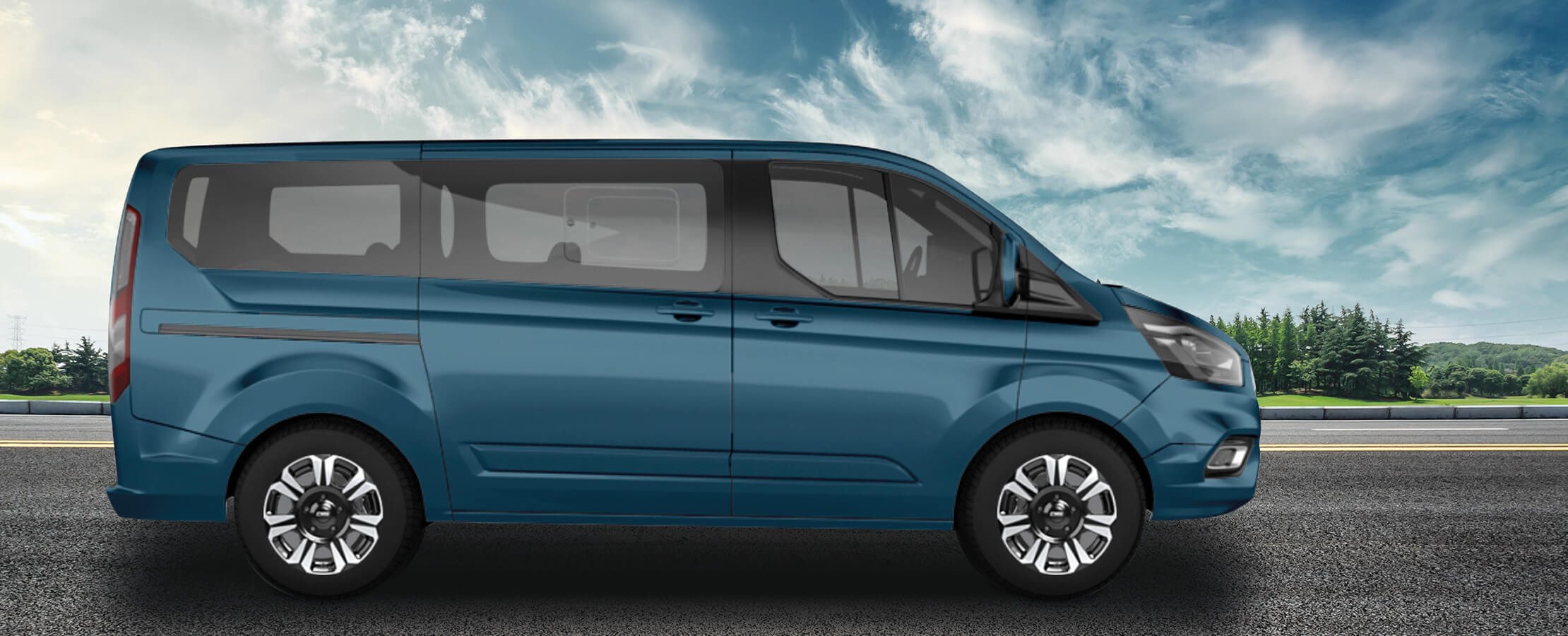 Heavy duty vehicles are no longer a purely functional matter. Camping vehicles, minibuses for families or refined delivery vehicles are statement!

CMS now serves these attractive "Heavy Duty Cars" with the new design C31. A wheel look that reminds of superheroes with its distinctive elements and promises safety when handling up to 2.3 tons axle load. The wheel has the size 6.5x16 and is offered with the following applications:
5x114 / 5x118 / 5x120 / 5x130 / 5x160 / 6x130.

You can find the wheel in our configurator.
26.10.2021
Cool wheels for hot cars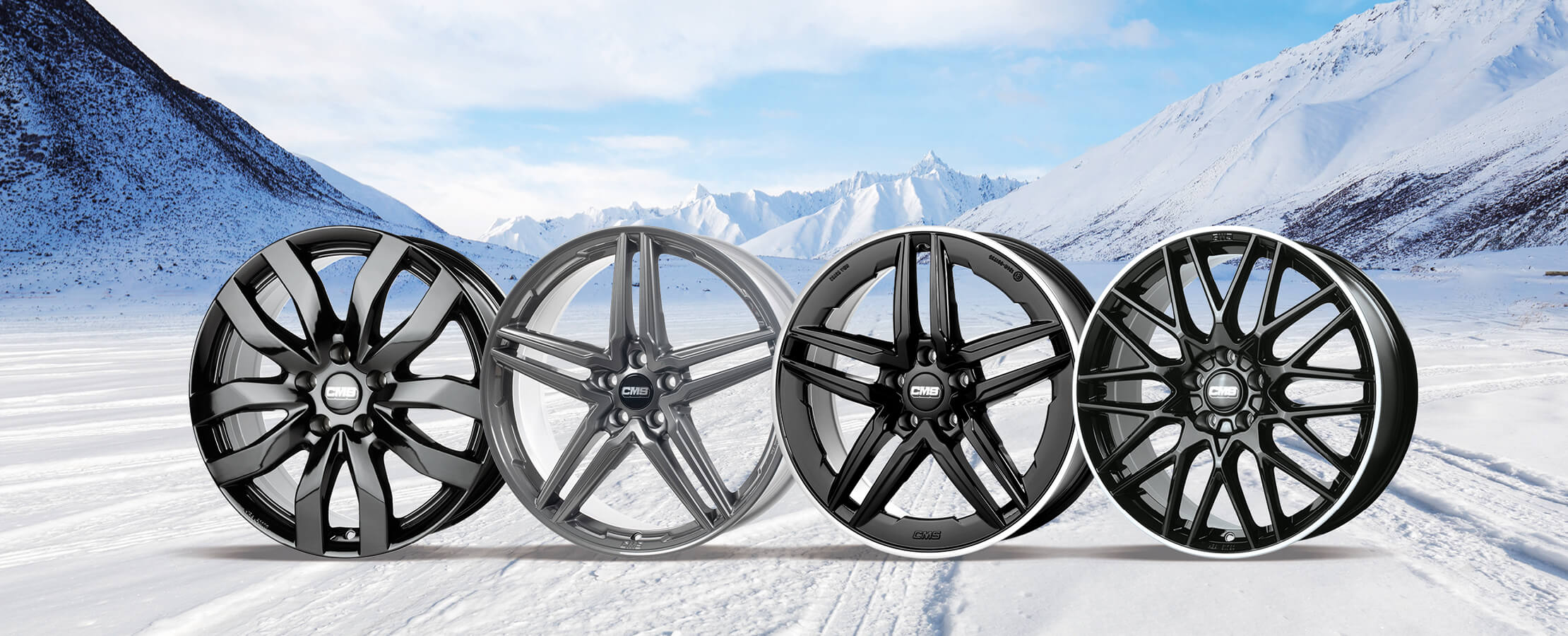 Are you still urgently looking for wheels or approvals according specific vehicles?
Then take a look at the CMS configurator - there is a lot new!
Below you can find a few examples with operating permit where no registration is necessary.

| Brand | Model | Design | Size | Tires |
| --- | --- | --- | --- | --- |
| Hyundai | Tuxon NX4e | C29 | 8.5x20" | 235/45 R20 |
| MB | EQA 250 | C22 | 7.5x18" | 235/55 R18 |
| MB | V-Klasse/Vito | C29 | 8.0x18" | 245/45 R18 |
| Skoda | Enyaq 80 | C29-Aero* | 8.0x19" | VA 235/55 R19; HA 255/50 R19 |
| VW | id.4 | C25 | 8.5x20" | VA 235/50 R20; HA 255/45 R20 |
| VW | id.4 | C29-Aero* | 8.0x19" | VA 235/55 R19; HA 255/50 R19 |
| VW | T5/T6/T6.1 | C29 | 8.0x18" | Tyre size see ABE |
*available beginning of November
Contact
Your contact to CMS